New Carkeek Design Racing Yacht Fulfills Promise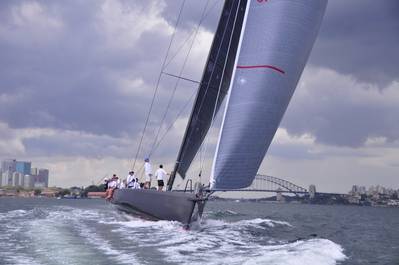 The designers say that tuning, testing and crew practice on the waters off Sydney have confirmed that the brand new Carkeek Design Partners C60 'Ichi Ban' is reaching all the initial performance numbers that the designers expected. The Dubai-built 60 footer was commissioned by owner Matt Allen for the upcoming Rolex Sydney Hobart race.

The new Carkeek C60 is a boat primarily designed for long offshore races. Allen and his team decided on 60ft as the optimum size after assessing a broad range of sea states and evaluating the average conditions.

"The objective was to come up with a good all round boat," Carkeek emphasised. "This is a strong offshore boat built for the conditions expected in this area of the globe. The boat has to be well designed and engineered; something the guys can have confidence in going to sea. The hull shape is very powerful – it looks more like a 70 footer in some ways – which allows the crew to push the boat very hard even in tough conditions.

Built by Premier Composite Technologies in Dubai, the Carkeek C60 is tooled for semi custom series production. The boat is ideally suited, say Carkeek, for classic offshore races like the Middle Sea Race, Newport Bermuda, Transpac, the Fastnet Race, offering turnkey race performance.