The Future of Maritime Navigation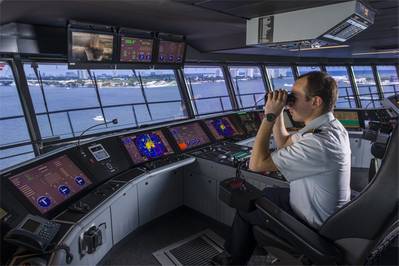 It is 70 years since the launch of the first radar under the Decca brand and today's Sperry Marine is marking the anniversary by looking to a future that would have been hard to imagine in 1949 – or even as little as 10 years ago.
Yet the changes of the last decade will be eclipsed by the transformation in the decades to come, which will accelerate as the shipping industry embraces greater digitalization and moves towards an era of smart and connected operations.
In the course of 70 years, the Sperry Marine portfolio has evolved from standalone single function products, through smart products with feature rich software, better user interface and integrated sensor data, to smart and connected products combining remote monitoring, control and optimization.
This vision reflects not just the advances in technology that can deliver data more widely and securely, but the influences on the industry, particularly from digital transformation and the need for sustainability.
The efficiency gains required to meet long term sustainability targets will require shipping to embrace vessel efficiency and voyage optimization on a completely new level and will place a stronger emphasis on connectivity to the wider transport and logistics supply chain.
As a company rooted in the provision of products designed around safety and themselves regulated to the highest standards, we are thinking more and more about what the future will look like, what our customers will require and how to maintain our legacy of innovation.
We also recognize that the trend towards enhanced connectivity and greater use of networks creates a further challenges that must be considered.
In the last decade, the integration of more and more sensors into bridge systems has become the industry standard, but it has also created problems, principally how to avoid users being overwhelmed with information and data that could distract them from their mission.
One of the next challenges will be to move beyond simply pulling and sharing data with navigators to simplifying the presentation of information in more intelligent ways that drive human decision-making. This creates the opportunity to share the information load with shoreside systems that can process the information and present specialist teams with options that can support navigators onboard.
For some, this path leads inevitably to the era of autonomous or remote controlled ships but such an outcome – in mainstream shipping at least – is far from a foregone conclusion. What is likely is that crew numbers will be progressively reduced as technology advances and that a globally connected bridge system can enjoy remote operational and maintenance support.
The critical lesson of the past is that things move faster than we expect and often develop in ways we can't predict. Shipping needs to think about how to absorb and understand these disruptive influences, embrace new thinking and continue to push the boundaries. For Sperry Marine this means that the regulated bridge stays at the heart of the vessel but how it integrates to the wider industry will change beyond all recognition.
The most recent phase of development has seen the company move into provision of a 'system of products', where navigation is integrated more deeply into vessel operations to enhance safety and efficiency. This concept, known as the Sperry Sphere, will grow from being vessel-centric to embrace the logistics and supply chain of the wider maritime industry.
As a 'system of systems', the vessel's operational technology will in future be connected to port and terminal systems for monitoring and control and to shoreside vessel management for optimization and maintenance. Data services designed to promote optimisation and efficiency will be seamlessly connected and the operator can share selected information with customers and partners.
Perhaps the key takeaway from 70 years in marine radar is that whatever products and services we deliver, we don't drive the market, our customers drive us to innovate and grow, and in doing so, continue our journey.