Graig Order Launches Generation of "Super Feeders"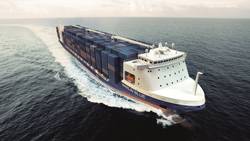 The Cardiff-based Graig Group has ordered a series of up to 26 fuel-efficient new generation MARLIN 2000 Blue design container feeders to be built at the major Jin Hai shipyard complex in China. The first two vessels are scheduled for delivery in August and September 2013 with subsequent vessels to be delivered in pairs every two and half months. Discussions on charters for the vessels are advanced with a number of global liner companies.
Hugh Williams, CEO, Graig, says, "This series responds to the industry's needs. There is a gap in the containership market for quality, fuel efficient, competitively-priced and environmentally-friendly feeder ships to service the ultra large containerships now being brought into service by the major lines. This advanced MARLIN family of designs will fill that gap, and we expect this order to be the first of several series of larger capacity future-proof vessels, backed by the strength of the MARLIN consortia."
The MARLIN series of designs has been developed by Wärtsilä, working closely with Graig and classification major DNV. The designs are the product of extensive research and tank testing and consultation with end users. With a number of design variants, the series delivers approximately 30 per cent improved fuel efficiency per TEU carried, improved capacity and slow steaming potential, better loading flexibility for different container types including a high reefer intake and lower emissions when compared to vessels currently in service.
"This is a step change for the feeder section of the container industry. It marks the beginning of a two-tier market for feeder ships. The top tier will be those which are like MARLIN, clean and fuel efficient and matching the economies of scale of the new mega liners. This is a much better ship for the job than you can find anywhere today and it is ready to go as a package," explains Williams. "We have a high capacity shipyard contracted, finance in place and employment models worked through. Three basic versions are available, suitable for owners ready to invest and lines wanting to charter cleaner and more efficient feedering."
There are three basic MARLIN designs. All feature an optimised hull shape, increased capacity and forward accommodation. MARLIN 2000 Blue is a Bangkok-max, direct diesel powered and provides 30 per cent fuel savings per day per TEU carried while carrying 20 per cent more boxes. Crucially, and unlike most other container designs of this size, it has a wide and flexible range of service speeds delivering fuel savings across the speed spectrum from as little as 10 knots to about 20 knots.
MARLIN 2000 Blue, intentionally targeted at the current needs of the high growth intra-Asia trades, has been ordered and there is demand for a series of these vessels. There are two further MARLIN concept designs which will become more attractive to charterers as air emission standards tighten and bunker costs rise. MARLIN 2500 Jade is slightly larger and diesel powered but is delivered with either scrubber or SCR emission reduction technology, while offering similar fuel and efficiency gains. MARLIN 2500 Green is aimed at the market for feeder vessels in ECAS (Emission Control Areas) and provides the option for dual fuel and LNG powering.