Waller Marine Installs Floating Power Generation Barges, Venezuela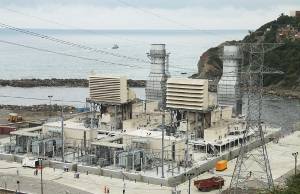 Waller Marine, Inc. announced the successful installation of its recently constructed floating power generation barges into a prepared basin at Tacoa, Venezuela. The two 171 MW barges, each supporting a GE 7FA dual fuel industrial gas turbine, will quickly be connected to the grid and soon supply much needed power to Caracas.
The basin will be closed from the ocean this week for the installation of two large structural caissons, each having dimensions of 115 ft long by 16 ft wide by 26 ft high and 450 tons, which will be positioned at the entrance of the basin to house the power barges.
"When we started this project, we always knew this would be a major undertaking and represent one of our most significant challenges," stated David Waller, president of Waller Marine, Inc. The successful completion of this project will allow an additional 340 MW average capacity to meet the long term power demands in Caracas."
For phase II of the project, Waller is also preparing two 180,000-barrel fuel storage barges, one fitted with a large reverse osmosis plant, which shall moor offshore Tacoa to supply diesel fuel and demineralized water to the floating power plant. It is proposed that the diesel fuel systems will be substituted by gas in the near future by a floating LNG storage and regasification facility designed and constructed by Waller Marine.
Waller Marine is forging new energy efficient initiatives to several countries with its gas to wire technologies that involve relatively small scale floating natural gas liquefaction, regasification and storage systems, as well as, small capacity articulated tug bar
ge transport
vessels with LNG fueled propulsion systems. These initiatives have opened up significant opportunities for countries and areas of population to produce lower cost electrical power with simultaneous reduction in the emissions of greenhouse gases.