US Navy Sub's Motor Generator Restored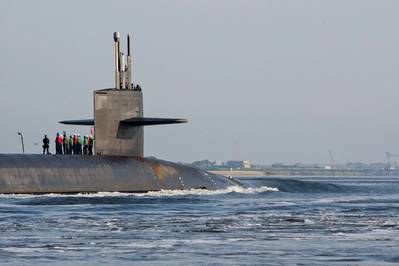 Portsmouth Naval Shipyard (PNSY) has completed the restoration of the motor generator set for the Ohio-class ballistic-missile submarine USS Rhode Island (SSBN 740) on February 23 – three days ahead of schedule, the U.S. Navy reported.
PNSY was already restoring a motor generator set for Rhode Island, a process that typically takes 12 to 18 months, when Trident Refit Facility (TRF) Kings Bay informed the shipyard they wanted to replace the motor generator set during the upcoming availability, 10 months earlier than the regularly scheduled overhaul. To support the timeline of this change, TRF Kings Bay required the completed MG set on site by February 26.
"Rapidly and efficiently responding to fleet maintenance needs is an important part of the Portsmouth mission," said Shipyard Commander Capt. William Greene. "The workforce came together to show once again that we are the Navy's center of excellence for submarine maintenance, overhaul and repair."
To support the adjusted delivery date, engineering and production reprioritized their work and the MG team worked through a holiday weekend snowstorm and completed full machine assembly and setup for final testing. Testing was completed successfully and the motor generator was shipped to TRF Kings Bay, arriving three days early.
PNSY is the Navy's Designated Overhaul Point for 500 kilowatt motor generator set. Motor generator overhaul at Portsmouth Naval Shipyard remains a vital element of the Navy's submarine maintenance industrial base. As a field activity of Naval Sea Systems Command, PNSY is committed to maximizing the material readiness of the fleet by safely delivering first-time quality work, on time, and on budget.