GL Signs Multi-Purpose-Vessels in Bangladesh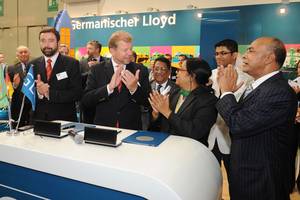 Two 7,250 dwt multi-purpose-vessels are the latest addition to the orderbook of classification society Germanischer Lloyd. The ships will be built at Ananda Shipyard in Bangladesh for German shipowners Komrowski and Herrmann Lohmann Schiffahrt. Germanischer Lloyd Member of the Executive Board Dr Hermann J. Klein and Ananda Shipyard's Managing Director Mrs. Afruja Bari signed the agreement at SMM in Hamburg.
The two multi-purpose-vessels belong to a series of ten. The eight previous ships were already ordered with GL class in December 2007.
The current orderbook of Ananda Shipyard includes ships from 2,900 dwt to 7,250 dwt for owners from Germany, Denmark and Mozambique. The production area comprises 80,000 square meters; more than 1,120 people are employed by the yard. Founded in 1983, Ananda Shipyard is a private company.
Germanischer Lloyd has been represented in Bangladesh since the mid-1980s.