Gladding-Hearn Delivers New Ferry for Fire Island, NY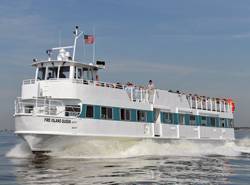 Gladding-Hearn Shipbuilding, Duclos Corporation, has delivered a new high-speed ferry to Fire Island Ferries, Inc., on the south shore of Long Island in New York. The new 387-passenger, all-aluminum, mono-hull ferry is a further refinement of a vessel design concept optimized by Fire Island Ferries since the early 1970s to operate on the 20-minute crossing on the shallow Great South Bay. With an emphasis on economy, efficiency, and quick turn-around, there are large passenger doors mid-ship on the main deck. There is indoor seating for 204 passengers on the main deck and seating for another 183 passengers on the upper deck.
According to the builder, to ensure a smooth integration of the new vessel into a fleet of more than 20 ferries operated by Fire Island Ferries, the design priority was the use of common components, systems and critical arrangement dimensions to aid in crew training and maintenance.
The vessel is powered by three MTU Series 60 diesel engines, delivering a total of 1800 Bhp at 2100 rpm and connected to ZF550 gear boxes, each turning NiBrAl propellers. Top speed loaded is 21 knots.