Keeping in Touch: Globalstar Launch Sat-Fi SatCom Service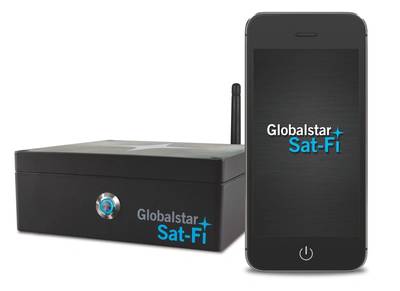 Globalstar says that its newest voice and data solution, Sat- Fi, is now available to provide seamless wireless connectivity via satellite. Customers can use their current Wi-Fi enabled smartphones, tablets and laptops to send and receive communications when traveling beyond cellular.
Customers are able to access data and voice more efficiently, saving both time and money. Through a convenient smartphone app which enables connectivity between any Wi-Fi-enabled device and the Sat-Fi satellite hot spot, subscribers can easily send and receive email and SMS text messages and make voice calls from their own device.

"Although we live in a connected world, there are billions of people who work, play and live in remote locations lacking reliable and affordable voice and data communications. Globalstar's Sat-Fi technology will allow government users and subscribers including oil & gas, marine, natural resource and emergency response to use their own device to stay connected when cellular coverage is not available," said Jay Monroe, Chairman and CEO of Globalstar. "Customers can rely on Sat-Fi to maintain reliable connectivity and peace of mind even when off the grid."

Sat-Fi key features include:
• Powered by the world's newest, most modern satellite network
• Data speeds 4x faster than the competition
• Easy initial setup – Sat-Fi can be operational within minutes to make calls, send emails and SMS
• Best voice quality in the industry with seamless connectivity
• Simple 10 digit dialing, caller ID and access to your contacts
• Connect up to 8 users to Sat-Fi at one time
• Reach emergency responders should the unexpected occur
Pictured: Now available from Globalstar, Sat-Fi allows any Wi-Fi enabled device to make calls, send emails and SMS beyond cellular, providing the fastest data speeds and crystal clear voice quality for up to 8 users.

For more information about Sat-Fi, coverage and a list of authorized Globalstar dealers: www.Globalstar.com.