Sweden's Port of Gothenberg Ready for Triple-E's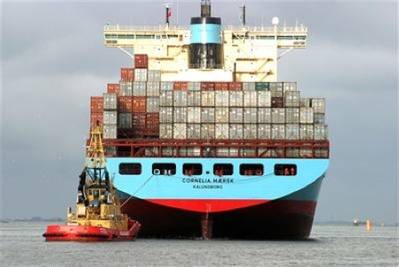 It has been confirmed that the world's largest container ships - Maersk Line's Triple E – will call at the Port of Gothenburg.
Test runs have been taking place at the Port of Gothenburg for some time to simulate a call by Maersk Line's new ship generation, Triple E.

The Port of Gothenburg is one of the few ports in Northern Europe that has fairways that are sufficiently wide and deep and cranes that are sufficiently large to receive Triple E ships. Ships which up to a year or so ago were the largest in the world – Emma Maersk and her sister ships – already call at the port. They can carry 14,000 containers. These will now be gradually replaced by Triple E ships to service one of the routes between the Port of Gothenburg and the Far East.
The new ships are 400 m long and 59 m wide. The carrying capacity is 18,000 containers. Placed end to end, the load from one single ship would be 110 km in length.

"Increased capacity on deep-sea services between Sweden and Asia is positive for Swedish industry. This is where trade flows are increasing whilst European flows are still reporting a poor rate of growth," states Magnus Kårestedt. Exports in Sweden comprise mainly paper, timber products, steel and industrial components. Imports largely take the form of clothes, electronics, food, furniture and other consumer products.