GPA-designed PSV Launched for Jackson Offshore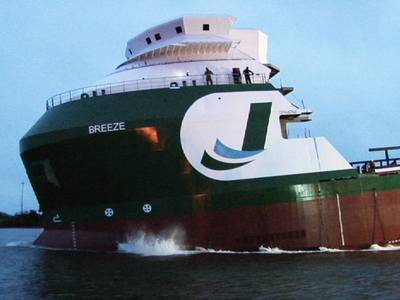 On January 29, 2014, the Breeze, designed by Guido Perla & Associates, Inc. (GPA), was launched at BAE Systems in Jacksonville, Fla., for Jackson Offshore Operators. Breeze is the first of the state-of-the-art GPA 675J PSV series destined to operate in the Gulf of Mexico.

"The launching of the Breeze represents a huge milestone and it gets us one step closer to our ultimate goal of delivery. We are very thankful to our partners BAE, GPA and Rolls Royce for aiding us in getting to this point." said Lee Jackson Chairman/CEO of Jackson Offshore Operators.

Throughout the engineering and construction process, GPA worked closely with the committed teams of Jackson Offshore Operators, BAE Systems and Rolls-Royce to produce a vessel series meeting all operational requirements. Designed and constructed in line with GPA's principles and methods, the customized vessel series using standard components grants optimized cargo capacity, improved fuel consumption, ease of maintenance, redundancy, excellent maneuverability, superb sea keeping and highest safety and comfort levels for the 34 crew members the vessels can each accommodate.

For the highly efficient, diesel-electric 76-meter GPA 675J PSV, GPA applied their new series of hull forms that provides a more efficient hull compared to previous designs. A newly developed bow design, encompassing GPA's special shaped bulb and forward sections, results in enhanced sea keeping on any sea direction. The hull form allows the vessel to maintain course, speed and comfortable motions at any sea state and direction of encounter. The bow, stern and hull form of the vessel are properly balanced in matter of ship response to sea state, providing low accelerations and good recovery responses, making a very dry and comfortable vessel on all sea states and directions. This is a different approach than other designs take that concentrate on performance at sea for mainly head seas, sacrificing all around performance while the GPA 675J PSV improves overall performance to the hull by balancing the stern with the bow of the vessel.

"We are grateful for the opportunity to design the Breeze and her sister vessels Thunder, Squall and Lightning and see it as a vote of confidence that Jackson Offshore Operators trusted the GPA team with this significant project. As we do with every project though, we emphasize that the success of these vessels is based on the hard work and dedication of every single person involved, on merging expertise and experience and on good communication and planning from beginning to end. With over 150 offshore vessels delivered worldwide and in the US over the last decade, we are pleased to add these four workhorses to our stable of PSVs in the Gulf of Mexico and look forward to the delivery of the Breeze in May," said Guido Perla, Chairman of GPA.

The GPA 675J PSV series bears the class notation ABS, +A1, Circle E Offshore Support Vessel (Supply-HNLS), +AMS, DPS-2, FiFi-1, ACCU, SOLAS, USCG Subchapter I& L, Full Ocean, USCG EEP150 Notation, MARPOL Annex I, II, IV and V and increases the number of GPA-designed offshore vessels operating in the Gulf of Mexico to 26.