Grant Helps Riverhawk Acquire Travelift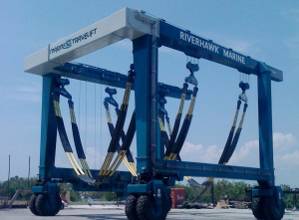 Marine Travelift Inc. announced that Tampa, Fla.-based RiverHawk Marine has acquired one of its 300C mobile boat hoists, thanks in part to a Small Shipyard Grant from the U.S. Maritime Administration. The Small Shipyard Grants program is administered by the Office of Shipyards and Marine Engineering in Washington D.C.

RiverHawk's 7.5-acre facility on West Tyson Avenue in Tampa is located with easy deep-water access from the Gulf of Mexico. The yard accommodates vessels up to 200 ft in length with drafts up to 14 ft for in-water repairs; it can handle vessels up to 160 ft for more extensive projects that require haul-out.

For land-based repair and refit work, RiverHawk features more than 60,000 square ft of undercover facilities and a 32,000-square-foot construction and repair building, which houses six separate construction bays, an enclosed paint bay and an interior refinishing booth.

Hohenhouse said RiverHawk's business mix encompasses both commercial vessels and private yachts, but at the moment, the U.S. Coast Guard is keeping the yard busy.

"We've got so many government vessels, we're concentrating on that right now," he explained. "But over time, we will service a broad range of commercial and private vessels."

RiverHawk purchased the Marine Travelift 300C last fall. The Marine Travelift is currently the largest such machine on Florida's Gulf Coast, and Hohenhouse anticipates that it will make a significant difference in the yard's operations.