Greencarrier Offers UK-Finland Routing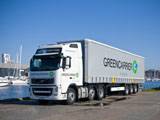 Greencarrier launches a new direct service between the UK and Finland for groupage, part loads and full loads.


Together with its UK-based subsidiary Greencarrier PTS, Greencarrier is expanding the range of services it offers the Nordic market with a new direct service to Finland. The new link comes less than six months after Greencarrier acquired the Ipswich-based company PTS UK Ltd. PTS already maintained regular full and part-load services linking the UK with Sweden, Denmark and Norway prior to its acquisition by Greencarrier.
At the heart of the new service package is a direct consolidated service linking Hull and Helsinki with collection/delivery of individual shipments throughout the UK and Finland should this be required by the customer. Consolidation takes place at PTS facilities in Immingham and Ipswich. Greencarrier PTS Managing Director Robert Gaunt provides more details: "Ex-UK, the service has a closing date of Friday with shipment Saturday from Hull. The cargo arrives in Helsinki on Tuesdays. The Greencarrier terminal in Helsinki is in the port area itself resulting in fast cargo processing. This means that on Wednesday morning, we are ready for distribution all over Finland.
"Transit times are excellent and ex-Finland, we offer collection Thursday for loading Friday and sailing Saturday."
Mr Gaunt adds: "For many shipments, including hazardous goods, this is a very cost effective and reliable solution where the whole operation is controlled within one company utilising its many years of experience and expertise within the Nordic markets."