Grounded Containership Rescued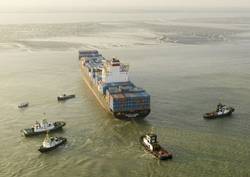 The 2006-built vessel grounded after suffering rudder failure near Ossenisse on the River Scheldt, between Hansweert and , during ebb tide. Working under a Lloyd's Open Form agreement, Multraship and URS immediately mobilized an experienced salvage team and six tugs. The salvors tried to refloat the vessel on the same tide, but the water level had fallen too far and the operation had to wait for the next tide, at around midnight.
Because the vessel had hazardous cargo on board, local authorities declared a 'High Alert' situation, and the salvors accordingly made provision for a potential major incident by mobilizing further tugs, salvage professionals, booms, pumps, and lighters for bunker discharge. In the event, eight tugs were able to refloat the vessel on the next tide and subsequently towed it to the Scheldepoort yard at , where it was redelivered to its owners.