GulfMark Offshore Records its Highest Ever Q1 Revenue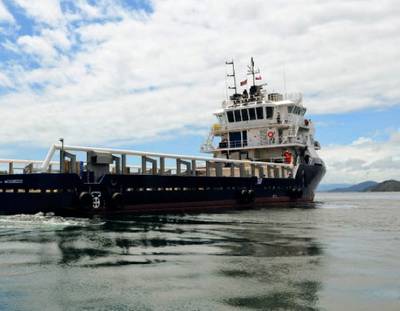 Houston-based GulfMark Offshore President & CEO Quintin Kneen commented on his company's first quarter 2014 financial report: "We recorded our highest first quarter revenue ever, and we still expect 2014 to produce our highest annual revenue ever."

He continued, "We came in just under the midpoint of our first-quarter revenue guidance, which resulted from slightly lower utilization than we originally anticipated, but overall, the average day rate increased during the quarter and we feel comfortable reaffirming our full-year revenue guidance of between $525 and $555 million.

Consolidated revenue for the quarter increased 23% year-over-year, and we expect revenue will increase more than 10% in the second quarter, to be in the range of $131 to $136 million.



The North Sea delivered strong first quarter results in what is typically a slower seasonal period. Our utilization surpassed 90% for the quarter, our highest first quarter utilization in this region since 2010. The average day rate for the region, bolstered by the impact of our new-build vessels, exceeded $22,000, our highest first quarter average since 2008. We continue to expect strong activity for the remainder of the year in the North Sea, and expect average day rates to continue to increase in the second and third quarters.



We completed the last vessel in the North Sea portion of our current new-build program during the first quarter, and based on their performance and profitability we have entered into an agreement to build one more Arctic Class PSV to be delivered in late 2015. We continue to view the Arctic as an area of high potential for these vessels, and as an opportunity to achieve above average returns in the Norwegian market.



The Americas region continued its solid performance and achieved 86% utilization during the first quarter. In the U.S. Gulf of Mexico, we are experiencing the temporary softness we previously discussed and anticipated as vessel deliveries precede new rig additions, and we still expect this market to strengthen during the second half of the year. Our first quarter guidance assumed a utilization rate in the U.S. Gulf of Mexico that was 2.5 percentage points higher than we realized, but the average day rate for the region continued to hold. In addition, we made improvements in our operational efficiency in Brazil that allowed us to keep our utilization above 90% during the quarter in that subregion.



Our Southeast Asia fleet continues to deliver high returns on investment. As we expected, day rates remained steady at just above $15,000 per day; however, our quarterly utilization decreased to 86% simply due to increased drydock days compared to the fourth quarter. Long-term fundamentals continue to improve, and we expect this strength to remain steady during 2014 as the Southeast Asia market continues to increase offshore drilling activity.



We remain optimistic about the near-term and long-term fundamentals of our business, and we will continue to make strategic fleet investments and divestitures that create long-term value for our stockholders and satisfy the intensifying customer demand for safe, efficient, reliable, high-specification vessels around the world."