Gulfstream Services Launches Wireless Product to UK Market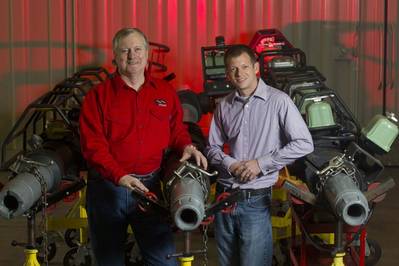 Gulfstream Services International (Gulfstream), provider of cutting edge equipment to the international oil and gas industry, is launching a world-first fully-automated wireless cement head to the UK market at Offshore Europe today.

Gulfstream Services International UK (Gulfstream UK) was set up in January 2010 in Aberdeen to serve the international oil and gas industry and growing demand from customers in UK, Norway, Middle East, Asia and Africa.

Gulfstream UK's turnover has grown to £2million due to its three product lines: Remote Actuated Cement Heads, Decommissioning Hydraulic Shears and High Pressure Flow Iron. In line with increased demand for Gulfstream UK's products and services in the past 18 months, staff numbers in the UK have risen to 14 and are expected to reach 20 by the end of the year.

The company's Torque Through Swivel & Ball/Dart Pumping Head is a field proven wireless cement head system, which significantly increases safety for operators by removing the need for workers to be using a harness to work up the derrick. Currently, there are 30 cement heads on rental from Gulfstream UK – up from seven units in early 2010. A further 24 units are scheduled for manufacture within the next six months.

The cement heads have been used by major operators and service companies including E.ON Ruhrgas, Chevron, Halliburton, Schlumberger, Maersk, BG Group and Cairn Energy.

The Gulfstream hydraulic shear division has accomplished over 7,000 cuts worldwide including carrying out multiple jobs in the North Sea. It is expected that there will be further growth within the decommissioning area as activity in the market continues to ramp up.

The High Pressure Flow Iron has been Gulfstream's core business since the company began and it continues to be a major part of the business with Gulfstream renting and managing the products for a number of North Sea operators.

Bryan Duplantis, Gulfstream UK regional manager, said: "At Gulfstream we put safety, quality and environmental issues at the forefront of our daily activities. The Torque Through Swivel & Ball/Dart Pumping Head was manufactured with safety and reliability being the most important aspects of the design process. This is the only cement head of its kind to fully eliminate the need for workers to ever have to carry out the potentially hazardous task of man-riding. Using this wireless cement head means workers do not have to get into a harness to work up a derrick, which in turn also removes the risk of dropped objects.

"Our wireless system not only remotely actuates the rotating balls in the head but it also provides well control in the form of operating Kelly Valves and other functions. It operates the low torque attached to the swivel or side entry pump and it is these capabilities that truly set us apart from others. No other products as sophisticated or as versatile are available compared to what Gulfstream is introducing into the worldwide market.

"Exhibiting our products at Offshore Europe allows potential clients the opportunity to learn first hand about the benefits of our equipment and in particular the benefits of our newest product, the unique wireless cement head. Gulfstream has already experienced huge demand for this product globally and we are well positioned in Aberdeen to meet the needs of customers locally.