Handheld Launches Robust Tablet PC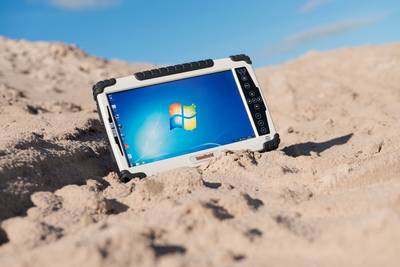 Handheld Group, manufacturer of rugged mobile computers and smartphones, introduce a 10-inch rugged tablet built for outdoor use.

The powerful Algiz 10X can withstand tough weather elements and harsh handling, and its large, 10.1-inch touchscreen provides the best screen visibility on the market.
"The new Algiz 10X is perfectly suited for field professionals who need a rugged tablet computer that is lightweight and built to withstand the harsh conditions that come with all kinds of industry fieldwork, and that can display detailed maps and other visuals even in bright sunlight," said Jerker Hellström, CEO of Handheld.

The Algiz 10X is IP65-rated and meets stringent MIL-STD-810G military standards for protecting against dust, water, vibrations, drops, extreme temperatures and varying altitudes. It is lightweight at just 1.3 kg (2.9 lbs), and it is only 32 mm (1.2") thick.

The Algiz 10X's brilliant display features the latest generation of MaxView technology. The tablet also comes with a u-blox GPS receiver and WAAS/EGNOS/MSAS capability, plus Bluetooth 4.0, WLAN 802.11 b/g/n and it is WWAN Gobi 3000-ready with fully integrated modem and antennas for wireless connectivity.

It has a built-in 5-megapixel camera with LED flash, and several connectivity opportunities, including waterproof USB 2.0, VGA and RS232 ports.

The Algiz 10X operates on a powerful Intel Atom N2800 dual-core processor with 4 GB of DDR3 RAM, offering top-of-the-line computing capability, and the 64 or 128 GB SSD disk is expandable via microSD for massive storage capacity. The Algiz 10X runs Windows 7 Ultimate, and is ready for Windows 8.

The Algiz 10X will be available in January 2013, but orders can be placed immediately.