CM-1000 Series: Smart Fluid Handling Tech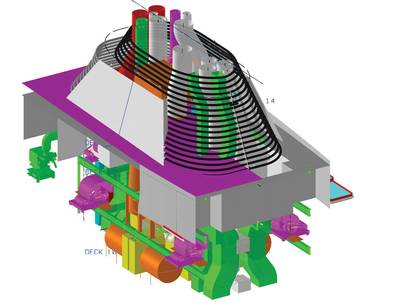 Colfax Fluid Handling introduced an Active Valve Control option to its Smart Technology CM-1000 Series intelligent sea water cooling system controller. The CM-1000 Series with optional Active Valve Control may be applied to both newbuild and retrofits. Introduced in April, the CM-1000 Series is designed to enhance shipboard sea water cooling system pumping efficiency while lowering operating and maintenance costs and maximizing uptime. The CM-1000 Series with Active Valve Control offers potential energy savings of up to 85%, and it can reduce maintenance by up to 50 percent and provides safer operation, return-on-investment and long term savings for total ownership. The CM-1000 Series with Active Valve Control uses sensors to monitor real-time operating conditions such as temperatures in the freshwater cooling loop, as well as the pumps' suction and discharge pressure. The sensor signals enable the CM-1000 Series controller to regulate the flow of sea water to the coolers according to varying heat loads from the main engine and generators. The CM-1000 Series controller checks pump status based on the pumps' performance curve, then opens and closes valves in the sea water cooling system to adjust the pumps' duty point for optimal operation. In the case of a 3 x 50% pump setup, Active Valve Control allows for an intelligent cascading pump operation. Because valve adjustments are made automatically, the risk for incorrect manual valve settings is eliminated and incremental energy savings and overall system efficiency are enhanced.
More information is available at smart.colfaxcorp.com/CM1000 along with the CM-1000 Simulator Calculator that calculates real-world energy savings and CO2 emission reductions for specific Atlantic, Pacific and Indian Ocean routes, based on vessel type and size, water temperature, energy cost and minimum pressure.
(As published in the November 2013 edition of Maritime Reporter & Engineering News - www.marinelink.com)