Hanjin Vessel Seized in South Africa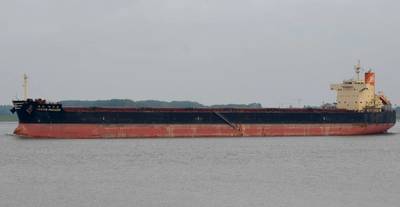 Hanjin Shipping-operated bulker Hanjin Paradip has been arrested by a South Africa for alleged unpaid charter fees.
The 82,158 dwt bulker, which has been used to transport grain and minerals, was detained in
Richards Bay
on May 24 due to the unpaid charter fees to an unspecified owner. The owner asked a
South African court
to impound the ship.
The company's severe liquidity shortage has prevented it from paying the charter for months.
South Korea's Chosun Ilbo quotes a spokesman saying that charter fees on the ship have gone unpaid because "we have yet to receive the money raised by selling ships and equity. We should be able to resolve the problem in negotiations."
Hanjin Shipping has entered restructuring. It is negotiating with tonnage providers to get rates cut on its chartered in fleet, a crucial first step outlined by creditors who have warned the line it will face court receivership if it fails to get deals fixed with its tonnage providers.
Hanjin operates 95 container ships and 56 bulk carriers, 91 of them chartered from foreign owners. Any disruption in container service could deal as a heavy blow as containers ships are aligned to global shipping network involving a number of clients.