Hapag-Lloyd Posts Third Straight Quarter of Profits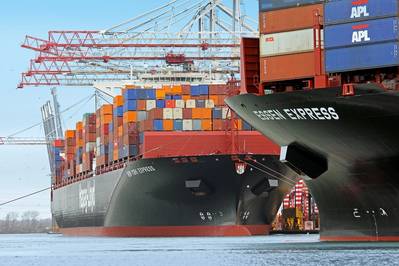 German continuer shipping company Hapag-Lloyd AG recorded its third consecutive profitable quarter, marked by higher transport volumes and reduced shipping costs in the third quarter of 2015.
For the first nine months of 2015, the shipper posted a €6.8 billion revenue, up €1.9 billion compared to the same period a year ago, attributing much of the increase to its December 2014 merger with the shipping business of Cia. Sud Americana de Vapores SA (CSAV).
Hapag-Lloyd also recorded a net profit of €160.4 million in the first nine months of 2015, compared to a loss of €224 million for the same period in 2014.
Helping to offset declining freight rates, the shipper said its transport expenses and costs of purchased services have decreased through 2015 for its fleet of 175 containerships mainly due to reduced bunker prices and consumption, as well as synergies and cost savings realized from the merger.
The company also completed its initial public offering on November 6, generating gross proceeds of approximately $300 million for new vessels and containers.
Hapag-Lloyd CEO
Rolf Habben Jansen
, said, "The third quarter proved once more that the merger with CSAV was the right step and that our cost reduction measures are making us competitive. With the proceeds from the IPO, we will be able to invest in the future to further improve efficiency and profitability."