Hapag-Lloyd Begins Training Programs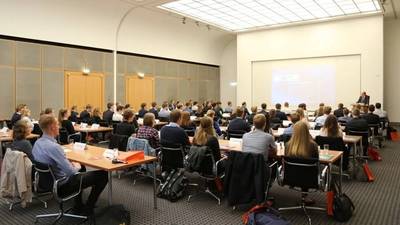 Sixty-four young men and women started their careers at Hapag-Lloyd on yesterday (August 01). Chief Executive Office Rolf Habben Jansen warmly welcomed the new apprentices this morning during an event held at Hapag-Lloyd's headquarters in Hamburg.
In the land division, 21 young men and 17 young women began their training programs to become shipping agents, forwarding and logistics clerks, office management clerks and warehousing specialists.
In addition, some of the on-shore apprentices are also starting dual-track courses of study in Logistics Management, Business Administration, Maritime Management, Information Systems and Applied Informatics. Four more grant holders will also join the IT department in October.
In the marine division, 26 apprentices (21 men and five women) will complete training programs to become a ship mechanic or a course to become a nautical or technical officer's assistant as a prerequisite for completing a three-year course of study in nautical science or shipping technology. Another 12 apprenticeships will begin their training to become ship mechanics in January 2017.
At present, Hapag-Lloyd employs 239 apprentices and students in dual-track study programs. Of these, 127 are based on shore and 112 are in the marine division.
"Hapag-Lloyd has been investing in the next generation of maritime staff for many years so that
Germany remains
one of the leading shipping nations in
Europe
," says Rolf Habben Jansen, CEO of Hapag-Lloyd.
Rolf added: "Many of our managers and captains today are former Hapag-Lloyd apprentices. That's just one of the reasons why we view hiring young apprentices as laying the foundation for the future success of our company."
Hapag-Lloyd is Germany's largest provider of training in the shipping industry. Up to 90 percent of all graduates will be offered employment at Hapag-Lloyd after completing their training. Some of them also leave to start university-level studies immediately after graduating from the
Hapag-Lloyd training
programs.