Keeper of New York Harbor's Spring Ritual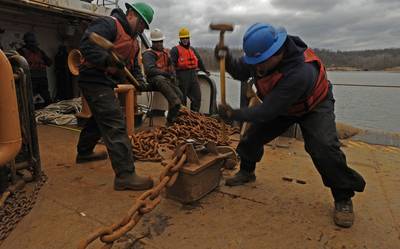 As the Hudson River begins to melt the Coast Guard buoy tender 'Katherine Walker' heads north towards Albany, N.Y.
The Katherine Walker is a 175-foot buoy tender, homeported in Bayonne, N.J. Its major mission includes the servicing of aids to navigation throughout New York Harbor, Western Long Island Sound, the Hudson and East Rivers, as well as other waters along the Connecticut, New York and New Jersey coastlines.

During a five-day patrol up the Hudson River, the ship serviced 18 seasonal aids to navigation, the last of 53 buoys that the crew restores every spring. The ice buoys were built for rough weather and ice conditions. The Katherine Walker crew replaced these winter aids to navigation with standard buoys that provide better visibility with a greater radar cross-section crucial to mariners. The ice buoys are put in place at the end of fall and are replaced by the standard buoys at the beginning of spring.

"Commerce on the river operates year round and depends on our aids to navigate safely," said Lt. Adam G. Leggett, commanding officer of the Katherine Walker. "However the standard buoy hulls can be crushed by the ice, which would cause them to sink and in order to continue to safely mark the channel we must put in the ice hardened hulls. Its hard work, but its our duty to the mariner."

Although servicing more than 300 floating aids to navigation in and around the New York harbor remains the main mission for the crew of the Katherine Walker, crewmembers find volunteer work in between can be beneficial within the marine partnerships throughout the same region, and during their latest patrol, they had the pleasure in assisting the crew of the USS Slater, the last destroyer escort in America, with several restoration projects before it opens for tours in April.