Hatteland Display Appoints New Service Partner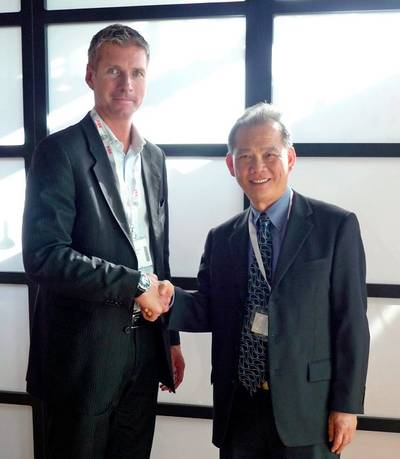 Since the appointment of Jason Electronics Pte. Ltd. (Jason) as an exclusive Sales Agent in Singapore, Indonesia, Malaysia and Thailand, and following a successful campaign in promoting Hatteland Display products, some very positive customer feedback and encouraging sales results have followed.

The resulting business has led to the need to enhance the support network around the regions' sales activity and so the strategic decision from Hatteland Display to offer extended after sales service in South East Asia. Jason has thus joined the Hatteland Display Service Network.

During this years SMM in Hamburg, the contract was signed by Mr. Trond K. Johannessen, President & CEO of Hatteland Display AS and Mr. Joseph Foo, Executive Chairman.

Following training of their Service engineers at the Norway premises of Hatteland Display, Jason will be ready to perform warranty and non-warranty workshop repairs on behalf of Hatteland Display.

"The extension of the co-operation with Jason is vital for the success of our business in South East Asia. Supporting existing business and gaining new projects will be greatly enhanced by this initiative We are convinced that Jason's expertise and dedication will contribute greatly to our ambitions in this important region", comments Goetz Vogelmann, Sales Director, Hatteland Display.

"Further the appointment as a service partner in South East Asia for Hatteland Display, we can bring our after sales service for our customers to a higher level", says Joseph Foo, Executive Chairman of Jason Electronics Pte Ltd.