Hawaiian Market Growth Boosts Matson Q3 Results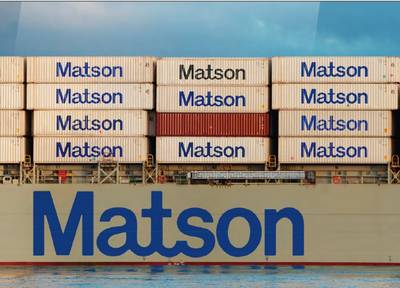 Matson, Inc., a U.S. carrier in the Pacific, announced its results for the third quarter of 2014, in which it reported a net income of $21.5 million, or $0.50 per diluted share, compared with $17.2 million or $0.40 per diluted share in 2013, while consolidated revenue for the third quarter 2014 was $441.8 million compared with $415 million in 2013.

For the nine-month period ended September 30, 2014, Matson reported net income of $43 million, or $1 per diluted share compared with $46.4 million, or $1.08 per diluted share in 2013. Consolidated revenue for the nine-month period ended September 30, 2014 was $1,270.7 million, compared with $1,226.3 million in 2013.

Matt Cox, Matson's President and Chief Executive Officer, commented, "The Hawaii economy is showing increased vibrancy, and we are earning our share of this growth. We had a strong third quarter this year, the result of a rebound in container carriage in our core Hawaii market, timing of fuel surcharge recoveries, higher freight yields in our major trade lanes, improved lift volumes at SSAT and continuing improvements at Logistics. Also, we incurred several unfavorable items in the third quarter of last year which affected year-over-year comparisons."

Cox continued, "Our third quarter financial results outperformed last year and as we look to the fourth quarter of this year, we expect overall results to exceed the results achieved in the fourth quarter of 2013, reflecting continued market growth in our core Hawaii market, strong demand for our premium expedited China service, and improvements at Logistics."

Matson said Hawaii container volume was driven higher by market growth in Q3 2014, and the company expects continued market growth in the Hawaii trade through Q4, with its Hawaii volume expected to be modestly higher than Q4 2013.

In the China trade, Matson expects overcapacity continue. However, the company expects to maintain high vessel utilization and achieve higher average freight rates, as its expedited service continues to realize a significant premium to market rates. In Guam, the company expects volume to be modestly better than 2013.