Bernard HIghlight Heavy-duty Welding Gun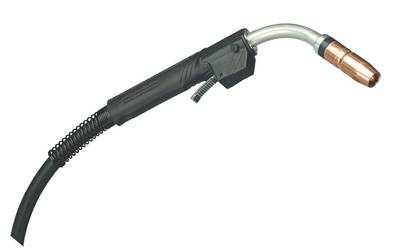 To meet the demands of heavy-duty welding applications, Bernard offers its T-Gun™ Semi-Automatic Air-Cooled MIG Gun.
The manufacturers say that this durable, straight-handle welding gun can be built to order online to ensure users have the features they need to weld in even the harshest and most abusive environments. Users simply answer a series of questions related to amperage, cable length, neck style and more to customize their own T-Gun Semi-Automatic Air-Cooled MIG Gun.
In addition to its customizable features, this welding gun includes an exclusive Double-Life MIG Gun System, which allows users to flip-flop the front end of the gun when it becomes worn, replacing it with the identical back end to extend the life of the product. The T-Gun Semi-Automatic Air-Cooled MIG Gun also features an aircraft grade aluminum armored neck with an insulated copper conductor tube (rated over 650 amps) to prevent overheating even after continuous use. Two spare leads, as well as a free control plug (excluding dual schedule models) and power pin are standard with the welding gun.
Bernard offers its T-Gun Semi-Automatic Air-Cooled MIG Gun in standard size models rated at 350, 450, 550, and 650 amps, as well as a Compact Series in a 350-amp model. The gun is also available with power cables in 10, 12, 15, 20, 25 foot and custom lengths.
Bernard inform that this product was formerly called the Tregaskiss TOUGH GUN™ Semi-Automatic MIG Gun.