New High-Output LED Models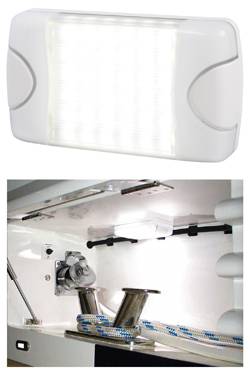 Hella marine has expanded its line of heavy-duty, multi-purpose DuraLed lamps with new 36 LED and 50 LED models.
All feature Hella marine's rugged construction, impressive light output and the superior energy efficiency of LED technology.

Whether illuminating an engine room, storage locker or lazarette, DuraLed lamps produce an exceptionally wide spread of light – a 90° arc when horizontally mounted and a 45° arc when installed vertically. Hella marine lenses and optics ensure the intense white light doesn't create glare or harsh point sources.

Hella marine's Multivolt technology provides consistent illumination and circuit protection from 9-33V DC, even during severe voltage fluctuations. These DuraLed LED lamps are spike protected to +500V and reverse polarity protected to -700V. Each offers substantial power savings compared to incandescent lighting. At 12V, the 20 LED model draws less than 0.33A, the 36 LED version draws less than 0.51A and the 50 LED lamp draws less than 0.80A.
Employing maintenance-free, fit-and-forget technology, these durable LED lamps feature a UV-resistant acrylic housing, are impact- and shock-resistant and are completely sealed to IP 67 standards. They carry ISO Ignition Protection approvals for safe and certified installations in machinery spaces, tender garages, fuel storage areas or other locations near flammable gas sources.

The 20 and 36 LED lamps measures 7" L x 4" H x 1.2" D. The 50 LED model measures 8.7" L x 3.8" H x 1.2" D. Sturdy DuraLed lamps include a proven surface mounting system, where heavy nylon bushes bear the fastening load to eliminate possible stress on the housing. Each lamp comes pre-wired with 8' of twin core marine cable.

Suggested retail prices for Hella marine DuraLed lamps are $202.22 for the 20 LED model, $224.44 for the 36 LED version and $353.33 for the 50 LED lamp.