HII Delivers DDG 117 to U.S. Navy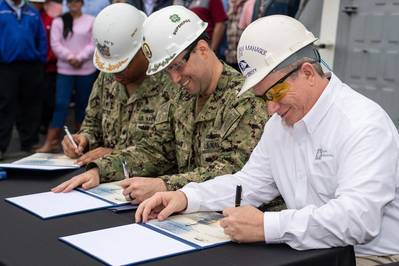 Huntington Ingalls Industries' Ingalls Shipbuilding division delivered the Arleigh Burke-class guided missile destroyer Paul Ignatius (DDG 117) to the U.S. Navy today with shipbuilders, ship's force and representatives of Supervisor of Shipbuilding, Gulf Coast in attendance.

The signing of the DD 250 document officially transfers custody of the ship from HII to the Navy. Paul Ignatius is scheduled to sail away from the shipyard in June.
DDG 117 is named in honor of Paul Ignatius, who served as the 59th Secretary of the Navy, from 1967 to 1969. He made significant contributions during the administrations of presidents John F. Kennedy and Lyndon B. Johnson. Ignatius is a living namesake and currently resides in Washington, D.C.

Ingalls has now delivered 31 Arleigh Burke-class destroyers to the Navy. The shipyard currently has four DDGs under construction, including Jack H. Lucas (DDG 125), the first Flight III ship, which started fabrication in May 2018.