This Day In Naval History: August 9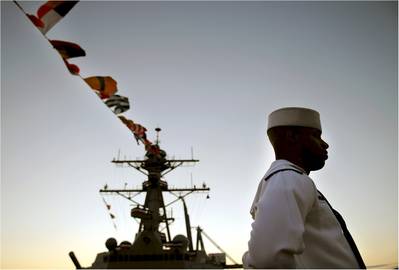 1842 - The Webster-Ashburton Treaty is signed. In the treaty, the United States and Great Britain agree to cooperate in suppressing the slave trade.
1867 - One officer and 46 Marines and Seamen from the steamer, USS Wachusett, land at Shanghai, China, to assist in fighting a fire.
1942 - A Japanese force runs through the Allied forces guarding Savo Sound, sinking three American heavy cruisers, USS Quincy (CA 39), USS Vincennes (CA 44), and USS Astoria (CA 34), along with other damaged Allied vessels. As a result of the loss, the sound gains the nickname, Iron Bottom Sound.
1943 - TBF aircraft from Composite Squadron One (VC 1) based onboard USS Card (CVE 11) sink German submarine U 664, 570 miles west of Fayal, Azores.
1986 - USNS John Lenthall (T-AO 189) is christened and launched at New Orleans, La., the third ship of the Henry J. Kaiser-class of fleet replenishment oilers and is homeported at Naval Station Norfolk.
2008 - USS Sterett (DDG 104) is commissioned at Baltimore, Md., the birthplace of the ships namesake: Master Commandant Andrew Sterett, who fought in the Quasi-War and Barbary Wars for the Navy.
(Source: Naval History and Heritage Command, Communication and Outreach Division)