This Day In Naval History: August 30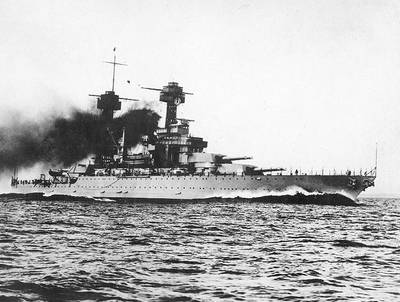 1923 - USS Colorado (BB 45) is commissioned. Notable during her pre-World War II service, she helps in the search for missing aviator, Amelia Earhart, in 1937. During WWII, USS Colorado serves in the Pacific during World War II and is hit by kamikazes at Leyte in November 1944.
1929 - At New London, Conn., 26 officers and men test the Momsen lung to exit an intentionally-bottomed submarine. The device was created by Lt. C.B. Momsen following the failure to save surviving crew members trapped in USS S-4 (SS 109) that sank after a collision with Coast Guard cutter USS Paulding in 1927.
1942 - USS Colhoun (APD 2) is sunk by Japanese land attack planes (Kizarazu and Misawa Kokutais) off Lunga Point. Fifty-one crewmembers die. High speed transport USS Little (APD 4) and chartered freighter Kopara emerge undamaged from the attack.
1944 - U.S. tanker Jacksonville, steaming in convoy CU-36, is torpedoed by German submarine U-482 while en route to Loch Ewe, Scotland. The gasoline cargo explodes, giving little chance for the 49-man merchant complement or the 29-man Armed Guard to abandon the blazing ship, which breaks in two at the second massive explosion. USS Poole (DE 151) rescues a fireman and one Armed Guard gunner, Jacksonville's only survivors.
1945 - Rear Adm. Robert B. Carney and Rear Adm. Oscar C. Badger accept the surrender of Yokosuka Naval Base. The Headquarters of Commander, Third Fleet is then established there. Also on this date, USS San Juan (CL 54) evacuates Allied POWs from Japan.
2007 - USS Denver (LPD 9) renders medical assistance to an ailing fisherman on board a Qatari-flagged bow while conducting Maritime Security Operations in the Persian Gulf.
(Source: Naval History and Heritage Command, Communication and Outreach Division)