This Day In Naval History: April 29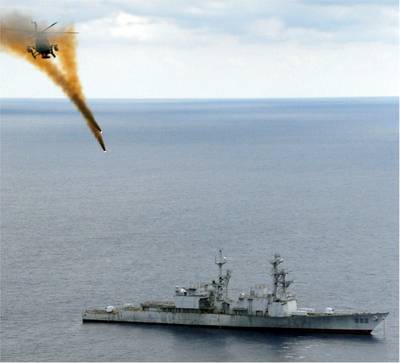 1814 - American sloop USS Peacock and HMS Epervier engage in battle. Peacock takes two 32-pound shots in her fore-yard with the first exchange, but her return broadside smashes most of Eperviers rigging and guns. After 45 minutes, Epervier is captured. The battle is hailed as a tribute of American gunnery as Epervier has 45 shot holes in her port side.
1944 - Task Force 58 begins a two-day attack on Japanese shipping, oil and ammunition dumps, aircraft facilities, and other installations at Truk following the support of the Hollandia landings in the Pacific.
1944 - USS Pogy (SS 266) sinks the Japanese submarine I 183, 30 miles south of Ashizuri Saki, Japan.
1945 - USS Comfort (AH-6) is hit by a kamikaze plane off Okinawa, which kills 28 persons (including six nurses), wounds 48 others, and causes considerable damage.
1945 - USS Bream (SS 243) sinks the German minesweeper depot ship Quito off Tanjong Putting, Borneo, N.E.I.
1961 - USS Kitty Hawk (CVA 63), an oil-fired aircraft carriers, is commissioned at Philadelphia Naval Shipyard. She is homeported at Puget Sound Naval Shipyard.
1975 - Commander Task Force 76 receives the order to execute Operation Frequent Wind (initially Talon Vise), the evacuation of U.S. personnel and Vietnamese who might suffer as a result of their past service to the allied effort.
2009 - A destroyer formerly known as USS Conolly (DD 979) is sunk during the UNITAS Gold sinking exercise in the Atlantic Ocean.
(Source: Naval History and Heritage Command, Communication and Outreach Division)