This Day In Naval History: June 9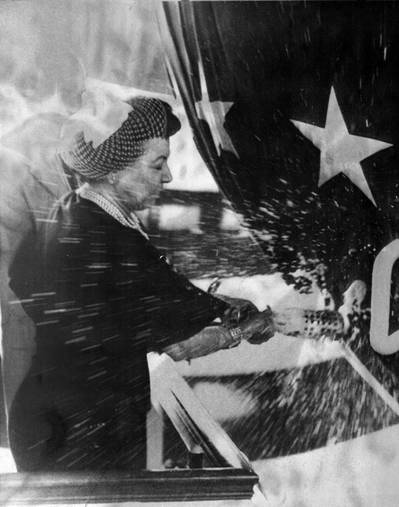 1813 - During the War of 1812, the frigate, President, commanded by John Rodgers, is en route between the Azores and England when it begins a series of captures of British vessels that include the brig Kitty, the packet brig Duke of Montrose, the brig Maria, and the schooner Falcon.
1869 - Secretary of the Navy Adolph E. Borie, orders the construction of the first torpedo station on Goat Island, Newport, R.I. Cmdr. Edmund O. Matthews is the first Commanding Officer. During the establishment, the station experiments with torpedoes and trained sailors in the use of the weapons.
1882 - The Office of Naval Records of the War of the Rebellion (which later becomes part of the Naval History and Heritage Command) is established. The office is placed under the direction of James R. Soley, the Assistant Secretary of the Navy in the 1890s.
1944 - During her Fifth War Patrol, USS Harder (SS 257) sinks Japanese destroyer Tanikaze in the Sibitu Passage, about 90 miles southwest of Basilan Island. On June 6, she sinks the Japanese destroyer Minazuki 120 miles east-northeast of Tarakan, Borneo. On June 7, Harder sinks the Japanese destroyer Hayanami south of the Japanese fleet anchorage at Tawi Tawi, southeast of the Sibitu Passage, Borneo. On the morning of Aug. 24, Harder is sunk in Dasol Bay, Philippines, by enemy depth charges on its Sixth War Patrol. There are no survivors and the crew is never recovered. For his "conspicuous gallantry and intrepidity " in sinking the Japanese destroyers during the Fifth War Patrol, Cmdr. Samuel D. Dealey, Harders CO, is posthumously awarded the Medal of Honor.
1945 - Coordinated submarine attack group, TG.17.21, commanded by Cmdr. Earl T. Hydeman on flagship USS Sea Dog, begins operations off the northwest coast of Honshu, sinking three subs, while TG.17.23 off Korea sinks a freighter and transport ship.
1959 - USS George Washington (SSBN 598), the first U.S. Navy nuclear-powered fleet ballistic missile submarine, is christened and launched at Groton, Conn. Her nuclear capability is removed in 1983, and she is classified as SSN 598 serving until 1985. USS George Washington is later processed in the nuclear recycling program at Puget Sound Naval Shipyard in 1998.
2007 - USS Kidd (DDG 100) is commissioned at Galveston, Texas. The 49th Arleigh Burke-class destroyer is named after Rear Adm. Isaac C. Kidd, who was killed in action onboard USS Arizona during the Japanese Navys attack on Pearl Harbor. He was posthumously awarded the Medal of Honor. The ship is homeported at Naval Base San Diego.
(Source: Naval History and Heritage Command, Communication and Outreach Division)