Today in U.S. Naval History: April 24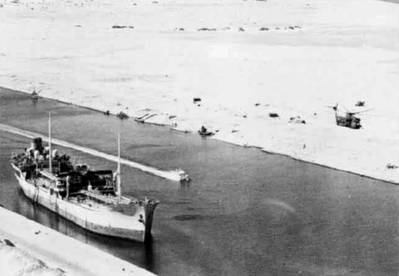 Today in U.S. Naval History - April 24

1778 - Continental Navy sloop Ranger captures HMS Drake

1862 - Battle of New Orleans; Union Navy under David Farragut runs past forts into Mississippi River

1884 - USS Bear left the New York Naval Shipyard as part of the Greely Relief Expedition. USS Thetis would join the mission a week later, with USS Alert also joining on this mission. The Greely Expedition was marooned in the Arctic. Greely and six other survivors were found at Cape Sabine, 23 June 1884.

1906- Ceremonies at Naval Academy commemorate John Paul Jones; President Theodore Roosevelt delivers speech

1917 - Destroyer squadron departs Boston for European service

1959 - Organization of American States asks U.S. to establish naval patrols off east coast of Panama to prevent invasion of Cuban forces

1974 - Naval forces begin minesweeping operations in the Suez Canal Zone

1981 - RCA delivers to the Navy, NOVA I, the 1st production unit of the improved navigational satellite.

For more information about naval history, visit the Naval History and Heritage Command website at history.navy.mil.