HMM Intros Scrubber Installation Fund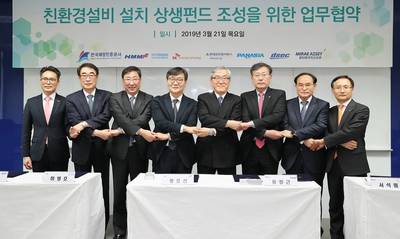 South Korean shipping company Hyundai Merchant Marine (HMM) announced that it has signed a memorandum of understanding (MOU) to establish a win-win fund for scrubber installation in preparation for IMO 2020 and to seek cooperation in the shipping-related industries.

The total investment amount will be KRW 153.3 billion (USD 135.8 million) which consists of HMM's investment of KRW 46 billion and the rest of the amount of KRW 107.3 billion (including Korea Ocean Business Corporation's guaranteed loan of KRW 62.3 billion and a win-win fund of KRW 45 billion invested by five companies: Hyundai Corporation, SKTI, Hyundai Global Service, DSEC, and PANASIA).

The five companies invested in a win-win fund will get the first priority for the contract negotiation for long-term fuel supply, supply of scrubber equipment, and scrubber installation etc.

The the second-largest South Korean container line said in a press release that it plans to complete the scrubber installation on its 19 containerships currently operated by the first half of 2020.

"HMM has taken preemptive actions towards the IMO 2020 including installation of scrubbers on its recently built vessels at an early stage," it said.

More specifically, two 11,000 TEU containerships, HMM PROMISE and HMM BLESSING which were delivered to HMM last August from Hanjin Heavy Industries & Construction are the world's first commercially operating mega container vessels of more than 11,000 TEUs equipped with large scrubber systems.

Furthermore, HMM's five 300,000 dwt VLCCs starting delivery from January 2019, are also retrofitted scrubber systems to respond to the IMO 2020 regulations.

In addition, HMM plans to install scrubbers on the newly ordered twenty eco-friendly mega container-ships, including twelve 23,000 TEU vessels which are expected for delivery in the second quarter of 2020.

HMM official said "As the IMO's new environmental regulation is expected to impose a heavy burden on shipowners, carriers not properly prepared for the IMO 2020 will be in a huge trouble." And that "Thus, HMM will fully prepare for the IMO 2020 during the remaining period and will take this regulation an opportunity for a quantum leap."

Meanwhile, the IMO will enforce a new 0.5% global sulphur cap on fuel content from 1 January 2020, lowering from the 3.5% limit. To comply with the regulation, ship operators have three options, installing scrubbers, using low-sulphur fuel oil, or changing fuel to LNG.