HMMarine Secures Debt Facility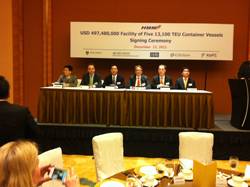 Hyundai Merchant Marine Secures US$500 million debt facility from banks led by DNB.

South Korean shipping group Hyundai Merchant Marine (HMM) has secured a USD500 million debt facility from a syndicate of financial institutions led by DNB Bank. A signing ceremony to close the facility was held at Marina Bay Sands in Singapore. The facility will be used by HMM to fund the construction of five mega container vessels being built at Daewoo Shipbuilding & Marine Engineering which are scheduled to be delivered throughout 2014. Upon delivery, these vessels will be deployed on the Asia-Europe trade route. HMM has an established track record and solid market reputation, thus enabling the company to continue to tap the banking market for large-sized financing notwithstanding the challenging market conditions in the shipping industry and banking sector.
Aside from DNB Bank, the other financial institutions involved in this transaction are ABN AMRO, Credit Agricole, Korea Finance Corporation and The Korea Development Bank. Erik Borgen, DNB's Head of Asia, said today: "We continue to be active in maritime finance throughout the cycle and our involvement in this transaction exemplifies our continued commitment to this space. "DNB is pleased to lead this facility and happy to note how successful HMM has been in securing financing on very favourable terms and with highly recognised banks in the shipping sector. This development shows that reputable ship owners with good track records can continue to tap the capital markets during times of economic uncertainty."