QE2 to Hoist Blue Peter Again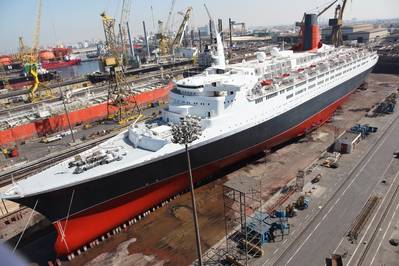 Dubai's QE 2 Holdings Ltd. chairman, His Excellency Khamis Juma Buamim, sets out his company's vision of a new life for the veteran cruise liner – as a hotel ship – in his speech to dignitories.
Outlining the work that has been completed, the chairman provided details of the transfer of ownership of the vessel to a new entity called QE2 Shipping LLC, based out of & owned by Dubai & that all necessary registry documentation with the flag state on the ownership of the vessel had been completed. He also confirmed that all necessary insurances such as P&I, H & M had also been endorsed to recognize the new ownership. Most importantly, he was able to confirm that the QE2 had been brought back to class under the Lloyds Register which has always been the case before her launch.
On the Technical side, teams from Drydocks World, who were charged with bringing the vessel back into class to enable her sail on her own steam to the Far East and Oceanic Group, who have provided an on board crew of 32, have worked on the first two phases of the project beginning with an overall check and work scope identification which was essential for the vessel after a long lay by. Following this a number of activities were undertaken on the vessel including hull & structural checks, steel repairs & renewals, ballast tank, air conditioning, sea suction & cooling system inspections, pumping out, cleaning and steel renewal in deep tanks, overhauling of stabilizers and bow thrusters, cleaning of diesel oil tanks, sewage tanks and other tanks & safety checks, repairs and upgrades. The aspect of overhauling her engines had commenced & was currently well underway.

Hotel renovation and transformation
A number of yards (Rong Sheng, Cosco, China Merchant and China Shipping) were invited to Dubai for ship inspection and technical teams are now finalizing and preparing the work scope based on these required inspections and reviews of the ship. The next press conference has been scheduled sometime towards mid August in Shanghai to officially announce the successful yard where the renovation and transformation of the vessel to a hotel/residence will take place.

Interior and concept design
On the aspects related to interior and concept design, a number of international concept designer houses including Benoy, Francis Leung of Hong Kong, Ong & Ong, Wilson Associates and Jeday Associates have been invited to submit their plans. Some changes will be made to the original plans which were envisaged and it has been decided that the QE2 will be an all suite hotel with suite sizes varying between 60 and 150 square meters. Some larger suites are intended for long stay residences.

The participants in the 'Project New Life' - the transformation of an iconic liner the QE2 to a luxurious all suite hotel with a permanent place in Maritime history is being handled with good care by Drydocks World in partnership with Oceanic Group International Limited.