Holland Shipyards Group, AYK Energy in Zero-emission Container Ship Retrofit Collaboration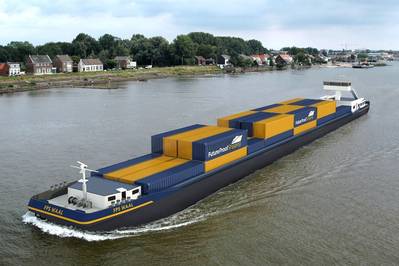 Holland Shipyards Group (HSG) and AYK Energy have signed a deal for AYK Energy to make batteries for the zero-emission container ship FPS Waal.
AYK Energy founder Chris Kruger said the company was increasing production at its factory in Zhuhai, China, to supply the retrofit project at HSG's shipyard in Werkendam.
Under the contract, AYK will supply two high-density DNV-approved Aries 88 lithium batteries to the vessel.
Kruger confirmed the 125-watt hour/kilogram (Wh/kg) batteries will be installed on Future Proof Shipping's FPS Waal, which is the second inland container vessel in its fleet to be retrofitted, following the FPS Maas.
The FPS Waal's retrofit involves its diesel engine being replaced with a propulsion system consisting of PEM fuel cells, hydrogen storage, AYK's battery packs and an electric drive train. Once complete, the FPS Waal will be powered by green hydrogen with around 1,200 kW of installed power and a cargo capacity of 200 TEU.
Kruger said AYK would be supplying HSG with a system that is easy to install, built to exceed class requirements, with a higher density than many other batteries on the market. He said AYK has nine different battery types, which can be used on a wide range of vessel types and applications from high power to high energy.
"For the FPS Waal we are working with HSG's engineering team on the entire integration of the battery system," he said. "One of my big concerns with battery systems was the need for the shipyard or integrator to supply many of the required subsystems. With the AYK system, we've included as many support systems as possible, at no extra cost. This includes racking, in module fire-fighting, breakers, pre-charge, all cooling and exhaust fans, mass data storage, a large, touch screen display, and even an AC power distribution panel. Moreover, our battery is built around safety. We are one of the few manufacturers to exclusively use lithium iron phosphate (LFP) and have developed a system where the LFP chemistry is safer, with greater energy density than Nickel Manganese Cobalt (NMC). "
Kruger said NMC had been the most commonly used battery chemistry because of its supposed greater density, but its chemistry is known to be much more dangerous than LFP. He said AYK is now showing that LFP can outperform NMC and deliver greater energy density, higher safety, and better value.