Hong Kong Passenger Ferry Fleet Complete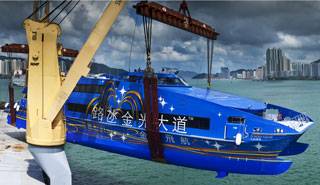 Austal is celebrating the completion of fourteen high speed passenger ferries for Hong Kong's Venetian Marketing Services Limited (VMSL) following the successful, on-schedule delivery of the final four vessels.

Recognizable for their exciting electric blue livery, each of the 155.8 ft aluminium CotaiJets are now in operation between Hong Kong and Macao, servicing the entertainment, gaming, convention and hotel facilities on The Cotai Strip.

Combining speed, comfort and outstanding interior finishes, each vessel has the capacity to carry 413 passengers at a speed of 42 knots. Currently performing more than 60 sailings each day, the vessels provide a first class ferry service along what is now the world's largest route in terms of passenger numbers.

Since construction began in 2007, the speed of the project has demonstrated the advantages of Austal's newly-introduced Advanced Shipbuilding (ASB) design and construction techniques. The Cotai Strip vessels represent the most extensive use of these techniques to date.

Austal Director – Global Sales and Marketing, Andrew Bellamy, said Austal's large facilities, skilled workforce and ongoing improvement in production techniques enables the company to continue to offer short delivery times, even for large projects.

"Increased modular construction and the automation of specific construction tasks across Austal's shipyards worldwide have seen significant improvements in our efficiency and productivity, as demonstrated by this project," Bellamy said.

"Austal prides itself on meeting or exceeding customer requirements and we are very pleased to be able to facilitate the on-time delivery of these vessels," he said.

Passenger facilities befitting of a luxury entertainment complex, including Beautreaux Club and Executive seating with leather finish, are spread across two separate levels and cater for up to 413 passengers. A passenger-friendly seating density is achieved by limiting rows to no more than three seats.

The fourteen CotaiJets are each powered by 4 x MTU 16V4000 M70s producing 2,320kW at 2,000 rpm, driving four Kamewa 63 SII waterjets. Each ferry is additionally fitted with transom mounted SeaState Interceptors providing active high speed ride control for maximum passenger comfort. The latest four vessels have been further enhanced with the addition of forward mounted T-foils and aft mounted, T-Max, an auxiliary steering system proprietary to Austal.

The provision of a regular, reliable, fast, high quality ferry service has contributed to the popularity of the Venetian Macao entertainment complex, which recorded a 7.1 per cent increase in visits during the second quarter compared to last year's second quarter.

Completion of the The Cotai Strip vessels means Austal has now delivered over 50 vessels into the Pearl River Delta region.