Tesco Introduce New Subsea Horizontal Well Products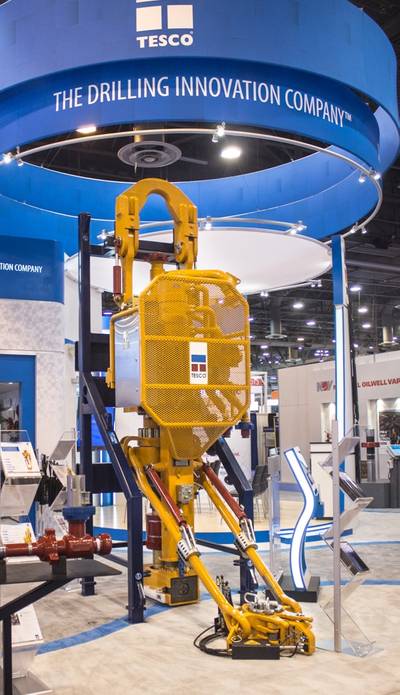 Tesco Corporation (TESCO) completes testing of the HXI 150-ton top drive & Hydraulic Compact CASING DRIVE SYSTEM (HCCDS).
Julio Quintana, Tesco Corporation President and Chief Executive Officer (CEO) recently announced the two new products.
The HXI 150t, the 12th of TESCO's high-tech top drive line, features the same benefits as the HXI 250t but is lighter and smaller and allows operators to transition the top drive between mobile rigs. Generating 24,000 ft/lbs of drilling torque, the HXI 150t is designed for the horizontal value stream as well as the vertical stages of the well, including drilling sections, driving casing to total depth and cementing the casing. Its integrated safety interlock of the process logic controller system and driller's control panel maximizes operating efficiency while minimizing risks.

"We asked customers what attributes of the top drive were critical to their operations, and they told us: rig integration, smaller footprint and mobility," said Jeff Foster, Vice President of Top Drives. "We designed the HXI 150t to meet all of those demands, and after a year of field testing, we are confident that it is the most versatile and dynamic top drive to meet those challenges."

Complementing the HXI 150t is TESCO's HCCDS, a compact, lightweight version of the company's 500-ton CASING DRIVE SYSTEM. Replacing conventional power tongs, traveling elevators and the stabbing board, the HCCDS allows circulation, rotation and reciprocation of the casing to ensure it reaches casing point while improving cement bond and wellbore integrity.