High Speed USS Swift Docks after Humanitarian Mission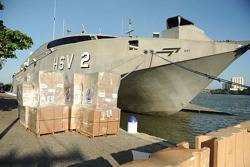 USS Swift arrives Maryport, Fla., after 4-month 'Southern' Partnership mission
While on deployment, Swift visited the Dominican Republic, El Salvador, Guatemala, Peru, Panama and Haiti, working with local communities, governments and militaries to build partnerships throughout Central and South America, and the Caribbean.

All branches of the U.S. military service are represented on board Swift. Specialists from the Seabees, the Marines Corps, medical and veterinary fields, Naval Criminal Investigative Service (NCIS), Expeditionary Security Team (EST), and Maritime Civil Affairs Team (MCAT) were aboard Swift for this mission.

"This deployment gave the crew of the Swift an opportunity to work side-by-side with our partner nations," said Cmdr. Garry Wright, HSV-SPS 12 mission commander. "Each port we pulled into represented a new culture and perspective, and learning from these experiences makes us better Sailors, Soldiers, Marines and Airmen."

Seabees from Naval Mobile Construction Battalion (NMCB 23) and Marines from U.S. Marine Forces South (MARFORSOUTH) completed construction projects in each port stop. The team refurbished or rebuilt nine schools, one medical clinic and two recreation facilities, working with more than 60 partner engineers from Guatemala, Peru and Indonesia. The 12 projects totaled $81,000 and will impact more than 5,000 students throughout South and Central America, and the Caribbean.