Humphree: New Fin Models for Planing Speed Craft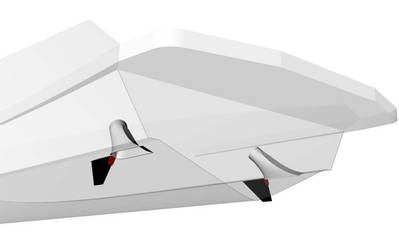 Humphree unveiled two more sizes of its fixed fin products. With the introduction of two more fin sizes; HVFF 300 and HVFF 400, the company now offer a full range of fixed fins for planing boats in the speed range from moderate 25 knots up to very high speeds of 50 knots and above. HVFF means Humphree Ventilated Fixed Fin and is especially intended for speeds exceeding 40 knots with its ventilated rear edge for low drag in these speeds.
Fixed fins are used to improve course keeping, especially on boats with poor lateral stability such as water jet powered monohulls. All Humphree fins are designed to shear of in case of grounding, leaving minimal damage to the hull
structure. The range available is now suitable for boats in sizes from 55ft up to 250ft with two sizes of subcavitating fins for speeds 25‐40 knots and three ventilated fins for top speeds exceeding 40 knots.
Furthermore, the Company have an interesting concept in the exhaust fin HEF500 where engine exhaust is released aft of the rear edge of the fin. The fin thereby offers control of the exhaust back pressure in combination with improved course stability.