DoD Officials Tour Warship's Hybrid-electric Propulsion Plant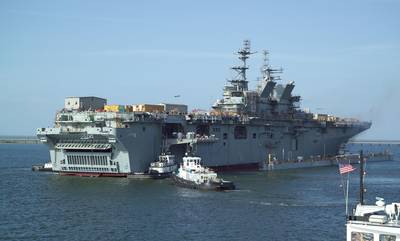 Deputy Secretary of Defense, Secretary of the Navy, pay a visit to 'USS Makin Island' (LHD 8).

Deputy Secretary of Defense Ashton Carter and Secretary of the Navy Ray Mabus met recently with several flag and general officers in the area on board USS Makin Island (LHD 8) for a leadership breakfast and to tour the ship.

Following breakfast, the guests were taken on a tour of Makin Island and were able to meet many of the sailors who help to keep the ship fully mission capable. Lt. Cmdr. Brian Ponce, Makin Island's main propulsion assistant, led the group on a tour of Nr. 2 Main Machinery Room to discuss the ship's unique hybrid-electric propulsion system and other energy conservation methods.


Makin Island is the first U.S. Navy ship to deploy using a hybrid-electric propulsion system. During the ship's maiden deployment, $15 million tax payer dollars were saved due to the system. The Navy expects to see fuel savings of more than $250 million over the course of the ship's 40 year lifecycle, proving the Navy's commitment to energy awareness and conservation. 


"When our electric drives are in operation we spend very little money and very little resources" said Ponce. "That in combination with all the other energy saving prospects we have on board makes a significant difference in overall energy conservation on Makin Island."



Ponce and Mabus also discussed the ship's recent selection as the most recent SECNAV Energy and Water Management Award, which will be presented next week in Washington, D.C.