Hyundai to Build ITER Vacuum Vessel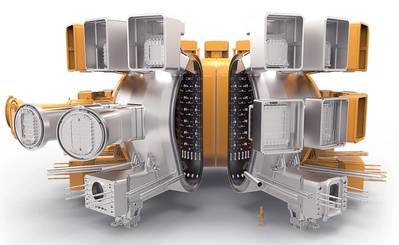 Hyundai Heavy Industries (HHI), the world's largest shipbuilder and a leading industrial plant EPC contractor,won $101.6 million worth of order to supply two vacuum vessel sectors (No.7, 8) for ITER (International Thermonuclear Experimental Reactor).
This is an additional order to the one HHI received from the international body in 2010 to build two vacuum vessel sectors (No.1 and 6) and 35 ports out of 53.
HHI is scheduled to deliver the two vacuum sectors measuring 400 tons in weight and 12 m in height respectively at the Cadarache facility in the south of
France where
the experimental tokamak nuclear fusion reactor is being built by the year of 2020.
The nuclear fusion reactor project that South Korea, USA, EU, Japan, China, Russia, and India are jointly running aims to artificially produce and commercialize nuclear fusion energy by the year of 2025.
The signing ceremony for the order was attended by Mr. Kwon Oh-gap, president and CEO of HHI; Mr. Park Cheul-ho, COO of HHI's Industrial Plant & Engineering Division; Bae Tae-min, director-general for Space,Nuclear and Big Science Policy Bureau, Ministry of Science, ICT & Future Planning of Korea; Mr. Kim Kee-man, president of National Fusion Research Institute of Korea; and Mr. Eisuke Tada, deputy director-general, relations coordinating officer of ITER Organization.
The vacuum vessel sectors ensure the optimal vacuum environment for the plasma produced in the ITER and work as a first tier barrier for neutrons created during the nuclear fusion reaction. Building the vacuum vessel requires the-state-of-the-art 3D modeling and welding technologies for the equipment to be able to withstand ultra-high temperatures (100 million °C) and ultra-high vacuum conditions.
Park Cheul-ho said, "The 5,000 tons of vacuum vessel that must be built within a 10 mm allowable error requires an ultra-high level of precision in engineering and manufacturing process.We see the two orders we won is the fruit of our world's top class technology. However, we won't stop here but continue to pursue our goal of leading the world's nuclear fusion power generation sector."