Davie Wins Canadian Icebreaker Refit Work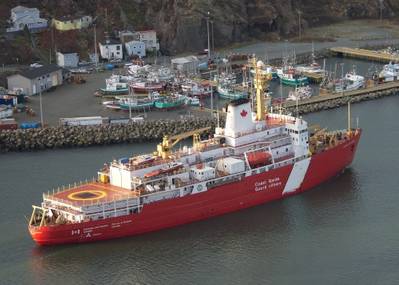 Canadian shipyard Davie said it has secured a contract for the upgrade and refit of Canada's heaviest icebreaker, 50-year-old CCGS Louis St Laurent. The $14 million program, part of the Canadian Coast Guard's multi-year maintenance plan, will mark the return of the CCGS Louis St Laurent to Davie in February 2017.
According to a representative of Fisheries and Oceans Canada, CCGS Louis St Laurent and its hull are in good condition, and the refit work set to take place from February 16 to June 23 has been commissioned to extend the life of the vessel and maintain its reliability.
The scope of work will include stern tube bearing replacement on all three shafts, steel inspection and preservation, regulatory and safety inspections, lube oil purifier replacement and galley refurbishment.
For Davie, the contract represents its fifth Canadian Coast Guard refit and upgrade program since the shipyard was restarted under new ownership and a new management in 2012. Davie recently completed the refit of another Canadian icebreaker CCGS Henry Larsen, a $16 million job.
Davie CEO Jared Newcombe believes the work positions the shipyard well for potentially securing coast guard shipbuilding programs.
"Working together with the Canadian Coast Guard on the existing fleet has allowed us to fully understand their needs for the future fleet," Newcombe said. "This has positioned us perfectly in the government's current solicitation for its interim icebreakers and for future coast guard newbuild programs."
Laurie LeRue, the Chief Operating Officer of Davie added, "A key tenet of the National Shipbuilding Strategy is that all ship repair and maintenance work is to be competitively tendered."
LeRue, who was previously the Program Director for the FELEX program for six years went on to add that, "Davie has invested heavily to position itself as Canada's center-of-excellence for the repair and maintenance of the federal fleet. The work we have been doing for the Canadian Coast Guard as well as work on the Resolve-Class AOR has honed our skills and readied the organization for the large repair and maintenance programs currently being solicited for the Royal Canadian Navy. As builders of the Canadian Patrol Frigates and having performed numerous docking work periods for this vessel class in the past, Davie is particularly interested to now work with the government in their future upkeep."
CCGS Louis St Laurent
Builder: Canadian Vickers Ltd., Montréal, Quebec
Year Launched: 1968
Year in Service: 1969
Ice Class: Arctic Class 4
Class of Voyage: Unlimited - beyond 2,000 nautical miles
Length: 119.6 meters
Breadth: 24.4 meters
Draft: 9.9 meters
Freeboard: 6.4 meters
Gross Tonnage: 11345 tons
Net Tonnage: 3,403 tons
Cruising Range: 23,000 nautical miles
Endurance: 205 days
Cruising Speed: 16 knots
Maximum Speed: 20 knots
Fresh Water: 200 cubic meters
Fuel Capacity: 3,500 cubic meters
Fuel Consumption: 24 cubic meters/day
Propulsion: Diesel electric AC/DC
Main Engines: five x Krupp Makk 16M453C
Power: 20142 KiloWatts
Thrusters: bow
Propellers: three fixed pitch
Emergency Generator: one x Caterpillar 3408
Generators: two x Krupp Mak 6M282