STX to Design Canadian Icebreaker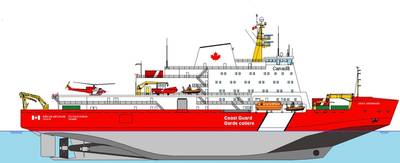 STX Canada Marine Awarded Contract to Design the Canadian Coast Guard's New Polar Icebreaker.
STX Canada Marine is pleased to announce that they have been awarded the contract to design the new polar icebreaker for the Canadian Coast Guard. The Department of Fisheries and Oceans announced today the award on behalf of the Government of Canada. The work will be carried out at STX Canada Marine's Vancouver office and be completed by the end of 2013.
The polar icebreaker will be named after former Prime Minister John George Diefenbaker (CCGS John G. Diefenbaker). It will be able to operate autonomously for 270 days in the Arctic, over a larger area, and in more difficult conditions than any of Canada's current icebreakers. The new Icebreaker will be delivered to coincide with the decommissioning of the CCGS Louis S. St-Laurent in 2017. The new vessel will replace the CCGS Louis St. Laurent as the CCG Flagship. The polar icebreaker will be designed to accommodate 100 personnel and have the ability to break through 2.5m of ice.
STX Canada Marine is a naval architecture and engineering services company with offices in Vancouver and Ottawa. For almost 30 years they have been providing ship design and engineering services nationally and internationally. In recent years, they have had the privilege of working with the Department of National Defense on the design of the Arctic Offshore Patrol Vessel (AOPS) and the Canadian Coast Guard on the design of the Offshore Oceanographic Science Vessel (OOSV). STX Marine Canada looks forward to working collaboratively with the CCG in designing the polar icebreaker.
STX Canada Marine will be supported in the Polar Icebreaker Design project by a team of highly experienced partners including Aker Arctic Technology (AARC), SNC-Lavalin, INDAL Technologies and Noise Control Engineering. Aker Arctic Technology, part of STX Europe will provide their world leading icebreaker design and construction expertise to the project. AARC and STX shipyards have been involved in the design and construction of over 60% of the world's icebreakers
The polar icebreaker is one of the vessels included in the National Shipbuilding Procurement Strategy (NSPS) Non-Combat contract awarded to Seaspan Vancouver Shipyards Ltd in October. Therefore, the vessel will be designed and built in Vancouver. The project will provide a significant economic boost to Canadian marine industry and west coast shipyard workers and marine related companies in particular.