Canadian Icebreaker Refit Contracts Awarded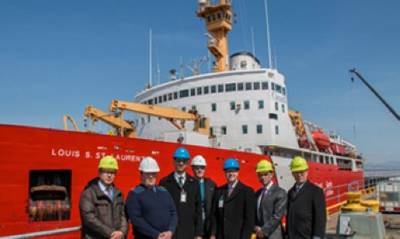 The Canadian Government informs it has awarded a $6.5 million contract to Babcock Canada Inc. for critical refit work for Canadian Coast Guard ship 'CCGS Louis S. St-Laurent'. The shipyard portion of the work will be carried out by Chantier Davie Canada Inc., a sub-contractor to Babcock Canada.
The CCGS Louis S. St-Laurent is Canada's largest and heaviest icebreaker. While in drydock at the Davie Shipyard in Levis, Quebec, the vessel will undergo critical maintenance. This work will be completed prior to the vessel's deployment to the Arctic to provide icebreaking services and other activities including scientific research, search and rescue support, and delivery of essential supplies to remote communities.
Steven Blaney, Minister of Public Safety and Emergency Preparedness commented "Davie has a long history of shipbuilding excellence in Quebec and around the world. This contract for refit work on Canada's flagship icebreaker is just one example of how this government is making strategic investments that will not only ensure that the Coast Guard can continue its vital work, but will also support job creation, economic growth and long-term prosperity right here in Levis."