Nuclear Icebreaker Sails through Northern Sea Route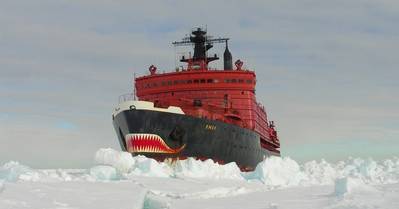 A 23,445-ton nuclear-powered icebreaker Yamal has embarked on a journey through the Northern Sea Route
The vessel is one of the Atomflot fleet's five atomic icebreakers; one atomic lighter carrier, four special purpose vessels and a floating crane used to clear passages and escort ships through the Northern Sea Route, as well as to the North Pole.
GAC Russia's teams in Murmansk, Moscow and Novorossiysk helped prepare Arctic class icebreaker Yamal to leave the Atomflot base just outside Murmansk for a tour of duty in the seaway which shortens the distance
between Europe
and Asia by thousands of miles.
GAC Russia's agency agreement with Atomflot was signed after its teams worked together to provide a technical proposal covering all aspects of the icebreaker's call. GAC Russia noted, however, that its ability to undertake business is subject to the terms of prevailing sanctions.
After liaising with relevant immigration and port authorities, GAC's Murmansk Shipping Supervisor Denis Palatov arranged two tugs, a pilot and the necessary permissions for the Yamal to leave the base. But when thick fog and heavy snow delayed her planned departure, he faced the possibility of having to make all the arrangements over again, from scratch. Palatov kept a close eye on the weather, regularly providing meteorological updates to the Master, and as visibility improved was able to deliver the good news that the vessel was clear to unmoor and start her voyage.
Arkady Podkopaev, GAC Russia's Managing Director, said, "Our handling of the Yamal and our contract with Atomflot form part of our strategy to establish GAC Russia as the provider of choice for agency support services for vessels transiting the challenging Northern Sea Route."
The contract also includes provision of
husbandry services
to the historic floating museum Lenin, the first atomic icebreaker put into service back in 1959. The 16,000-ton vessel was laid up 30 years later to serve as a museum ship, but it still remains fully crewed, equipped and operational.