Research Icebreaker Sails for Arctic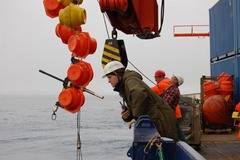 German research vessel 'Polarstern' embarks on its 27th Arctic expedition
The research vessel Polarstern has left Bremerhaven on course for the Arctic with 44 expedition participants from institutions from Germany, Belgium, USA and the United Kingdom who will spend around one month on board.
Their main study area is the Fram Strait between Spitsbergen and Greenland where they will conduct long-term oceanographic measurements. The Fram Strait is the only deep sea water connection between the Arctic Ocean and the Atlantic. How much water is exchanged between these two seas and what heat and salt transport is associated with this?
How is the water in the Arctic Ocean altered which flows in the East to the North and in the West to the South? Which masses of water flow how quickly through the Fram Strait? To record these basic parameters, temperature, salinity and oxygen content are determined precisely with sensitive sensors.
"The aim of our research is to quantify the water masses and heat exchange between the North Polar Sea and the Northern Atlantic and circulation in the Fram Strait", says Dr. Agnieszka Beszczynska-Möller, oceanographer at the Alfred Wegener Institute for Polar and Marine Research in the Helmholtz Association
The measurements are an important puzzle piece for understanding the complex correlations between ocean, sea ice and atmosphere in the Arctic. Other research groups from the Alfred Wegener Institute also use the long-term data for their disciplines such as for models on sea ice development.