Russian Shipyard Lays Second Icebreaker Keel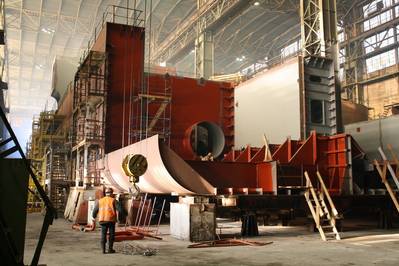 Vyborg Shipyard, in NW Russia, to start construction of the next Icebreaker project 21900М ahead of schedule.

The solemn ceremony of keel-laying of diesel-powered Icebreaker rated power 16 MW will take place shortly. The shipyard reminds that in the middle of October the keel-laying ceremony took place of the first and prototype Icebreaker project 21900М at Vyborg Shipyard (a United Shipbuilding Corporation company ).

The vessels are being constructed by the order of Federal agency of marine and river transport. According to schedule three Icebreakers shall be delivered to the Customer within the period from May till October 2015.



The diesel-powered icebreaker project 21900M has ice-breaking capacity up to 1,5 m. The vessel is intended for independent ice escorting of heavy-tonnage vessels, towage, fire fighting on floaters and other facilities, salvage and assistance to distressed vessels, transportation of cargos. Displacement at max. draft – 14 317,5 tons, length – 119,8 m, width – 27,5 m.



Since May 2012 Vyborg Shipyard JSC has been been part of the United Shipbuilding Corporation.