Subsea Wreck Identifed Off NJ Coast 153 Years On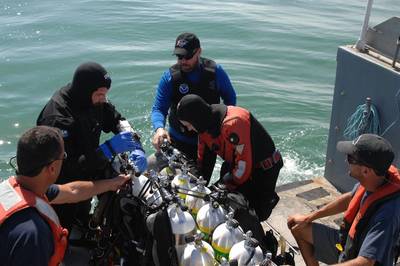 Lost after a violent collision at sea, government and university maritime archaeologists have identified the wreck of the ship 'Robert J. Walker', a steamer that served in the U.S. Coast Survey, a predecessor agency of NOAA.

Twenty sailors died when the Walker sank in rough seas in the early morning hours of June 21, 1860, ten miles off Absecon Inlet on the New Jersey coast. The crew had finished its latest surveys in the Gulf of Mexico and was sailing to New York when the Walker was hit by a commercial schooner off New Jersey. The side-wheel steamer, carrying 66 crewmembers, sank within 30 minutes. The sinking was the largest single loss of life in the history of the Coast Survey and its successor agency, NOAA.

The Walker wreck site initially was discovered in the 1970s by a commercial fisherman. The wreck's identity has been a mystery despite being regularly explored by divers. Resting 85 feet underwater, the vessel's identity was confirmed recently as part of a private-public collaboration that included research provided by New Jersey wreck divers; Joyce Steinmetz, a maritime archaeology student at East Carolina University; and retired NOAA Corps Capt. Albert Theberge, chief of reference for the NOAA Central Library.

While in the area to conduct hydrographic surveys after Hurricane Sandy for navigation safety, NOAA Ship Thomas Jefferson sailed to the wreck site and deployed its multibeam and sidescan sonar systems. Hydrographers searched likely locations based on analysis of historical research by Vitad Pradith, a physical scientist with NOAA's Office of Coast Survey.

A NOAA Maritime Heritage diving team, on a separate Hurricane Sandy-related mission in the area, was able to positively identify the Walker. Key clues were the size and layout of the iron-hulled wreck, and its unique engines, rectangular portholes, and the location of the ship, which was found still pointing toward the Absecon lighthouse, the final destination of a desperate crew on a sinking vessel.


NOAA say that their intent is not to make the wreck a sanctuary or limit diving, but to work with New Jersey's wreck diving community to better understand the wreck and the stories it can tell.