ARIS Explorer Aids UXO Identification Mission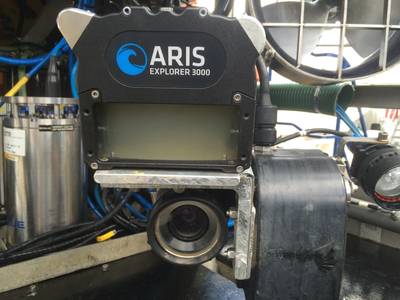 Manufacturer of high-resolution acoustic imaging sonars Sound Metrics has supplied an ARIS Explorer 3000 to aid in the identification and classification of Unexploded Ordnance (UXO) along the coastline of the North Sea, an area known to be particularly turbid due to strong currents and large amounts of sediment swept into the seabed by neighboring rivers. As a result of these conditions, optical cameras are often ineffective, and other imaging sonars lack the clear, sharp detail afforded by the ARIS Explorer 3000, according to Sound Metrics.
The clarity provided by the ARIS Explorer 3000 in zero-visibility waters offered the organization the detail critical to the accurate identification of UXO, the sonar manufacturer said. With the ARIS' high-resolution imaging, the team successfully gathered information on the target's dimensions, characteristics and location.
Characteristics of the target were found to be consistent with a highly explosive German LMB Ground Mine – featuring a rounded nose and "oyster-like" tail-shape. Using the ARIScope software measurement tool, the mine was measured to be approximately 2.3 meters in length.
With conclusive results, the client said he is "over the moon with this product" which helped him and his team positively determine the identity of the UXO. Due to the successful identification of the target, the team could effectually evaluate risk and carry out a plan of action to protect seafarers in accordance to industry practice and protocol.
"It's a dangerous business hunting mines. You need to be confident that you not only have the best people, but the best kit available to do the job in order to get in and out safely and quickly," said Joe Burch, President of Sound Metrics. "ARIS Explorer 3000 has a proven track record of successful UXO identification throughout European waterways."