Boat Hatch Covers Improved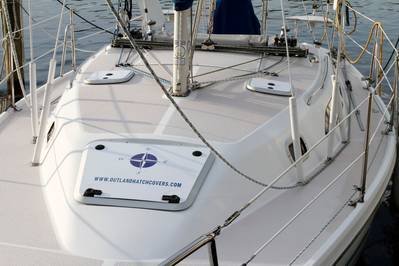 Outland Boat Hatch Covers chooses Vycom's Celtec® material to resist heat and UV damage, along with a unique, patented fastener to attach them.
Outland Hatch Covers, based in Jacksonville, NC, owned by twin brothers Steve and James Outland, has found a successful use of Vycom's Celtec material for fabricating their new boat hatch covers, which provides UV protection for the acrylic lens of deck hatches.

The brothers developed Outland Hatch Covers as a new, innovative, two-piece unit using Vycom's Celtec 2 mm and 3 mm PVC material and a patented, uniquely designed fastener to secure their rigid cover system.

While looking for a suitable material for the system, they discovered Vycom's Celtec expanded PVC, supplied by Calsak of Atlanta. Both the 2 mm and 3 mm thicknesses are used for their hatch covers depending on the boat's hatch design. The Outlands explain that their specially designed fastener along with Celtec's heat reflection does an excellent job protecting hatch lenses and the system is very easy to use.

"Any boat that has a deck hatch typically needs a cover to help protect the lens from hazing and crazing, which are hairline cracks, over time. The cover also helps protect the interior of the boat," said James. "Our rigid cover system does an excellent job of stopping the UV rays and heat buildup that can damage the acrylic." He advises the use of hatch covers year-round for protection, because UV rays are not limited by seasons.

"We have found the aesthetics of Celtec, with its white matte color, nicely blends in with most boat finishes," said Steve. "They blend in so seamlessly with the boat's deck they are difficult to notice." Celtec also has a highly printable surface so the Outlands offer vinyl graphics or even routed designs when requested.